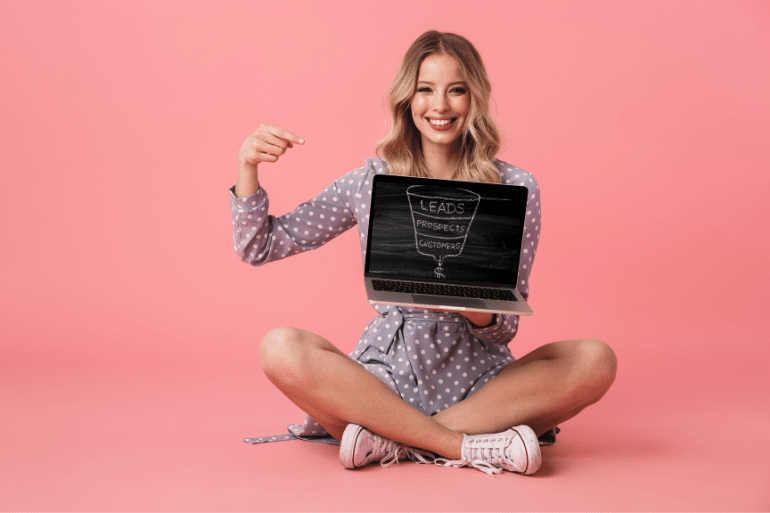 Launching a successful direct to consumer brand is hard.
Most fail.
Unless you have a winning formula to increase your odds of success.
This article will give you the guide to the winning formula to launch a direct to consumer brand.
2021 has never been easier to succeed and grow online yet there is more competition than ever.
3 Areas You Must Succeed In
Think about your DTC business as needing three very strong parts of your company to succeed. They are your product, operations and marketing. Lets go into detail for each one:
1. Product Perfection
Your product must be needed by customers and has to solve a problem.
According to CB Insights, 42% of the time a company fails is because the market does not need the product.
If you are reading this article, you most likely already have a product to sell. You are here to learn how to market and grow your revenue. Keep reading.
You must also have a product supply chain that ensures you do not run out of product. We have seen running out of product with long lead times to replenish really hurt a lot of ecommerce businesses.
2. Operational Excellence
Operational excellence and efficiency is underrated at most companies.
The only times I've seen operations prioritized is when the founder is an an operator.
Founders who have non-operational strengths like sales, creative, etc typically don't realize the importance of creating bulletproof systems and operations.
"An operator" is a founder or executive who spends all day executing. First they create the strategy and then they relentlessly execute.
We are here to tell you this is important. If you are not good at operations, make sure you have someone who can create the systems for you and track LEADING KPI's to make sure things are on track.
You don't want to be reactive to operational issues. It's too late if you are reactionary.
You have to see five steps ahead and see around corners to anticipate operational issues and stay ready with contingency plans.
3. Marketing Execution
Great marketing succeeds in the form of two buckets:
a. Creativity – what do your ads look like, what are your marketing angles, what is the visual creative you're using, where are you choosing to run campaigns, how convincing is your copywriting, are you communicating the benefits of your product, how often are you split testing and what is your philosophy around testing.
b. Mechanical – this is the mechanical know-how about how ad platforms work so you can get up-and-running and executing the campaigns quickly and effectively. Lets say you want to advertise on Facebook or Instagram and you have amazing images to use, you have to also know the ins-and-outs of using Facebook Ads Manager, placing a pixel on your site, targeting the right audience and overall having a strong grasp on how to execute the campaign. The same applies for all platforms.
If you are not familiar with Facebook ads, we wrote a comprehensive guide you can read here.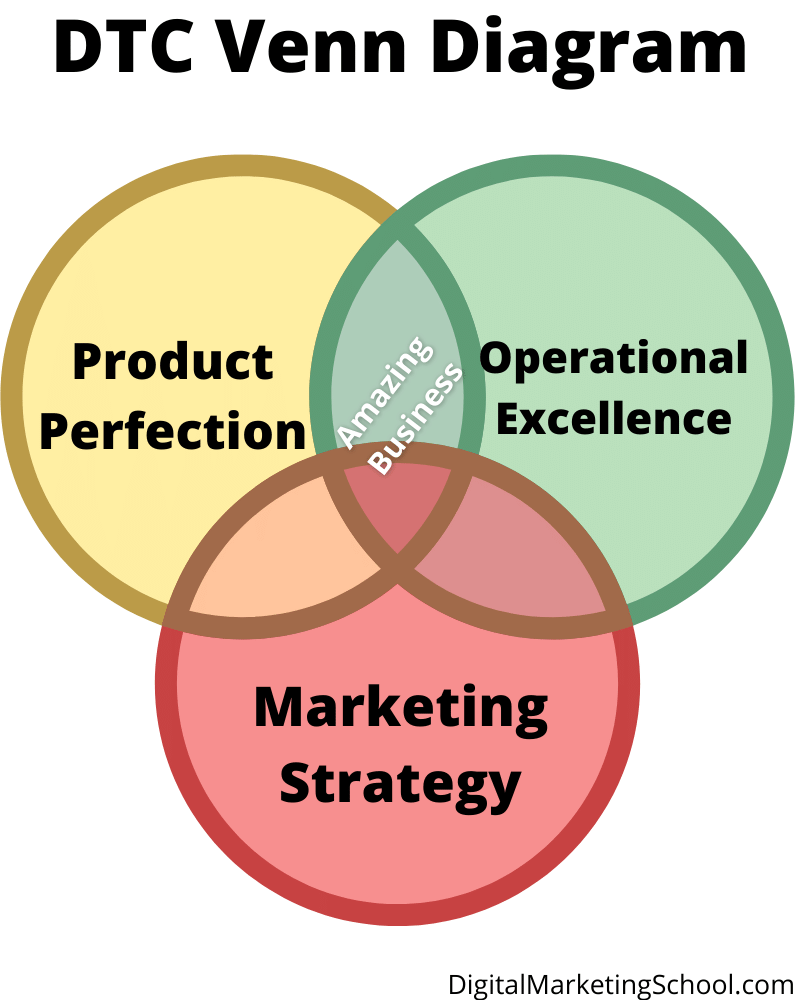 Marketing Strategies – Where To Start?
My first rule of thumb about where to start is to look within your "circle of competence". If you have previous experience with a marketing channel then start there.
If you don't have a circle of competence when it comes to marketing, then begin with:
Facebook and Instagram ads for prospecting (lookalike).
Retargeting through Facebook (and Criteo if you have a minimum of 50k visitors per month).
Content strategy.
Out of the three marketing areas above, I would allocate 80% of your time to the first two bullet points and 20% on the third point being content.
Laying The Foundation
Let's put the playbook together from the foundation on up.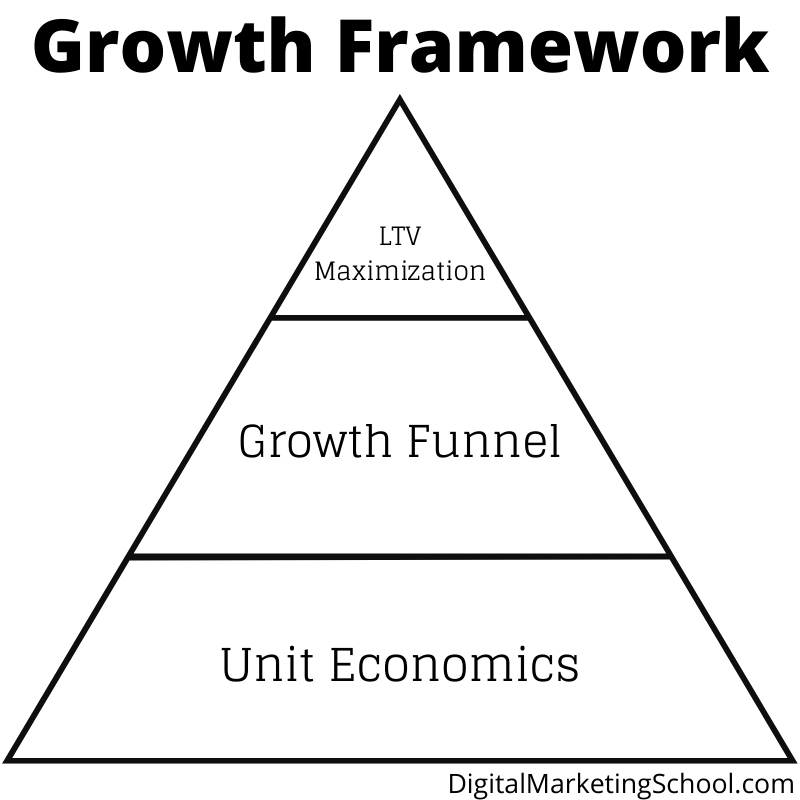 Unit Economics
You have to get your unit economics to work.
This means that your cost of goods generally run 20% or less of your sale price.
For example, if you sell your product for $100, your cost of goods should be $20 or less.
You'll also have costs for a lean team which could run another 20 – 30% of your revenue.
10% of revenue could be other miscellaneous costs which leaves you with your ideal scenario of leaving you 40-50% profit margin. This varies greatly by industry and product-type but it's a good goal to aim for.
Once your unit economics are in a good place as the guidelines above, you are ready to model out your monthly or annual growth by setting realistic new customer KPI's by month.
(insert sample excel screenshot of 10% monthly growth or 100% annual growth)
Launch Marketing Funnel
We cover the full marketing funnel in our Ultimate Marketing Playbook article, along with a brief outline at the beginning of this article. Be sure to read those and write out your own plan for getting visitors and customers through the top, middle, and bottom of funnel.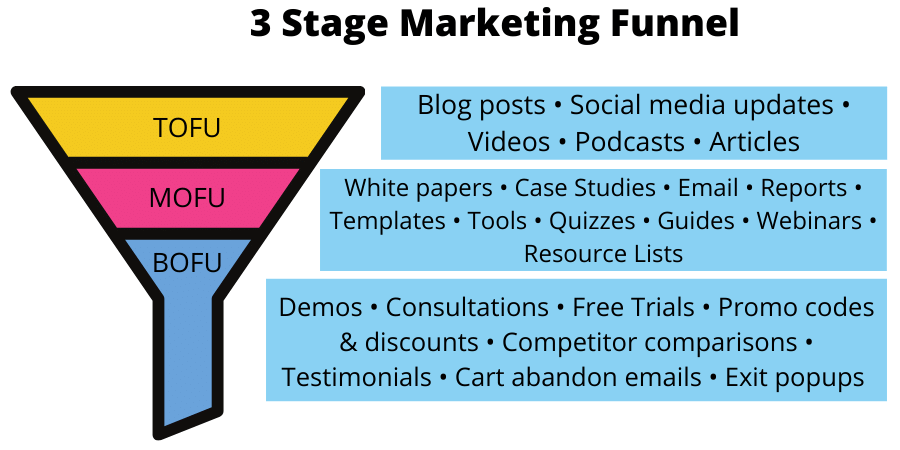 Retention and Maximize Customer Lifetime Value
Now that you have successfully set up a marketing funnel with prospects coming in, being nurtured, educated and engaged during the middle of funnel and having converted them into customers; it's time to create a flywheel where they come back to make repeat purchases.
The best way to stay in touch with your customers is through email marketing.
Be sure to read our comprehensive article about email marketing in the link above.
The most successful things to message your existing customers are new product releases.
If you sell something that is replenishable then set up a message cadence to existing customers via email and retargeting ads that communicates to buy more of what they already purchased.
If you sell something non-replenishable then message new releases and complimentary items to their previous purchase.