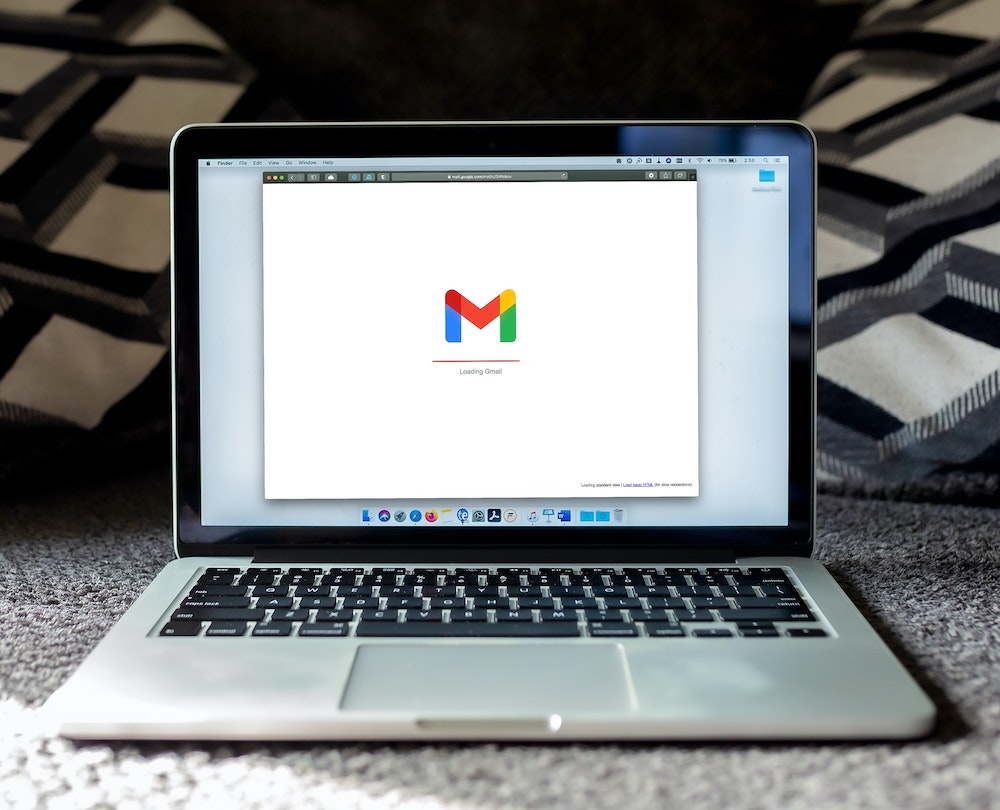 If you're like most eCommerce marketers, email is a large part of how you connect with your customers.
You're likely growing your email lists, sending emails, and engaging customers with new deals and personalized messaging.
But as effective as email is, it can be taken to the next level with a marketing strategy.
We're diving in to make sure your brand has everything you need to get your eCommerce email marketing strategy on point—let's get started.
Why Email Marketing is Essential to eCommerce Businesses
While there are many different methods to interact with customers, email is still the preferred method of communication over other channels—even social media.
In fact, 72% of people of all ages still primarily prefer email as their primary mode of communication with brands.
Here are some additional benefits of email marketing for eCommerce.
A Huge ROI
According to research by eMarketer, the median return on investment for email marketing can be as high as 122%—four times higher than any other digital marketing channel.
While it's a single channel, email marketing allows you to target different segments in different ways.
Whether you're trying to speak to potential, current, or recurring customers, there is an email campaign that can be implemented.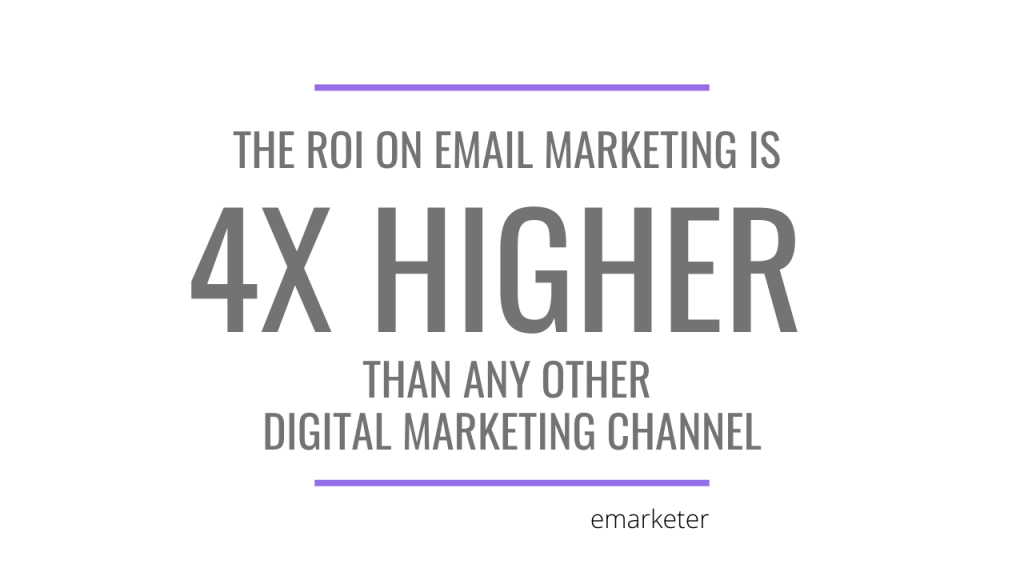 More Conversions
Of course, every marketing channel that has business uses is measured by revenue.
Email marketing has a leg up in this area as well—conversion rates for emails are higher than social media, direct traffic, and search, which makes it an ideal marketing tactic for an eCommerce business.
Email allows you to build relationships with customers and gain their trust, which influences them as they make purchasing decisions.
In fact, 81% of businesses say that email drives customer acquisition.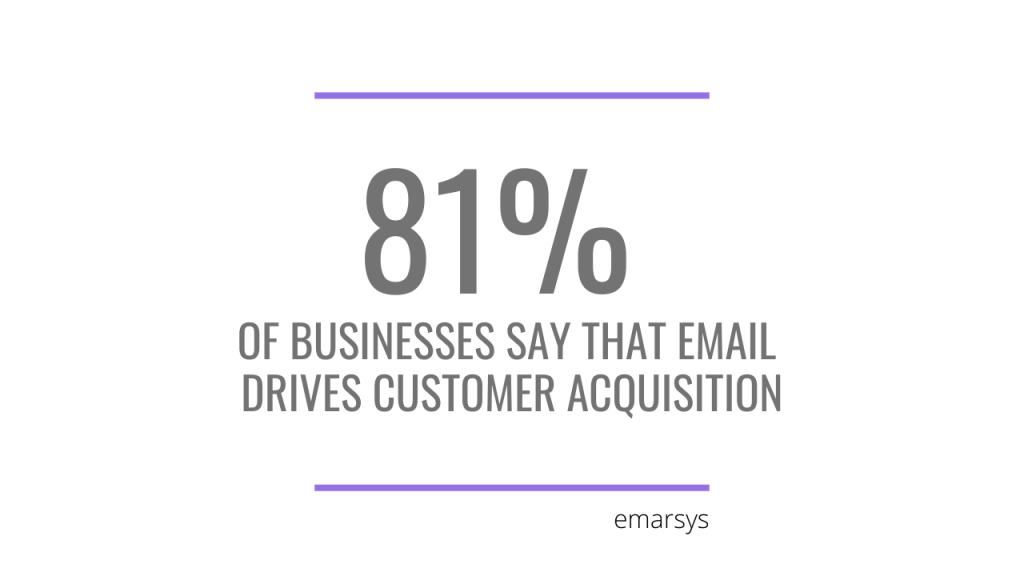 Cost-Effective
The reality is that many businesses stick with email because it's easy to implement, effective, and relatively inexpensive.
Every business owner has a budget, and while paid digital and traditional tactics like paid search, display ads, Facebook ads, direct mail, TV, and radio all get results based on how much money you spend, with email marketing your costs are essentially zero aside from any tool subscriptions you might use.
With email, for every $1 spent, a business can earn $44.
Email marketing serves as a low cost, but effective channel because it can be personalized for a user's wants and needs and fits into every stage of a customer's journey from awareness, to consideration, to post-purchase.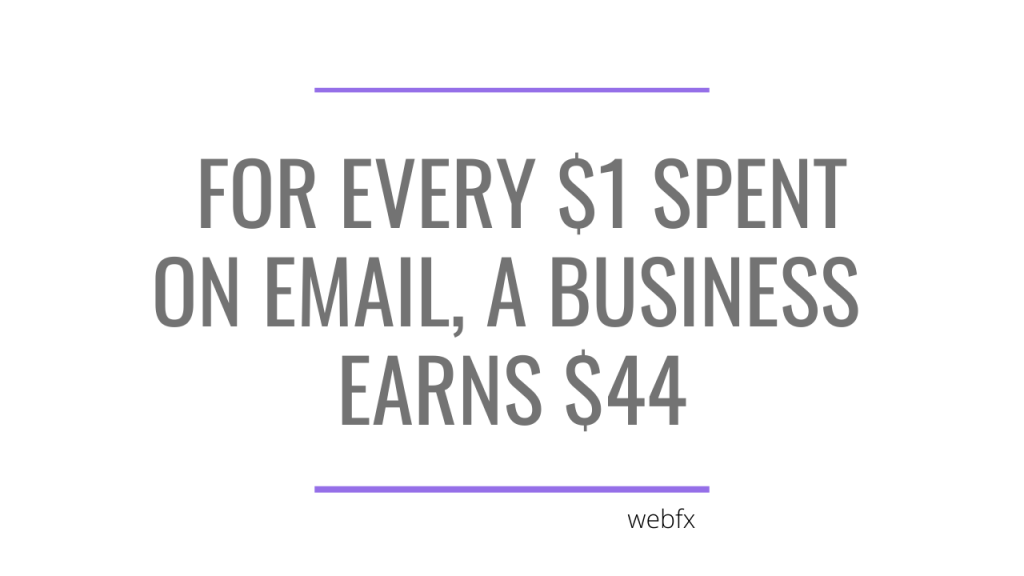 Customizable
Of all your business' free or "owned" marketing channels, email marketing is the most customizable.
While your website and social media channels can be tweaked slightly to focus on certain audiences, email is really the only free channel that can be fully segmented into audiences so you can send tailored messages specifically offering value to those people.
Email can be used thoughtfully to build loyalty and trust for your brand.
In fact, email is most effective when used this way—emails with subject lines that include a recipient's name are 26% more likely to be opened.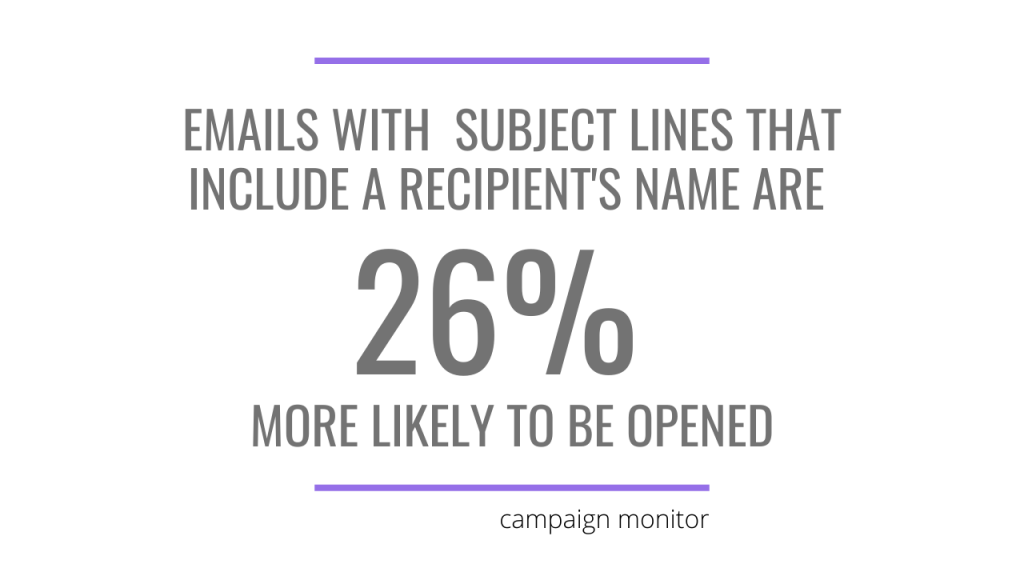 Building Your Email List from Scratch
To use email effectively, you need to build a strong email list segmented into different audiences.
Make sure to focus on these three priorities to build a valuable email list:
Relevance: Connect with people that want to connect with you—target people who are interested in your product. Allow people to opt into your product and give them the best, most relevant information that will keep them engaged and coming back for more.
Quantity: After you've focused on the first two priorities, that's when you focus on growth. Make sure to grow in quality and relevance to keep your numbers up and to avoid unsubscribes.
So how do you build an email list? Here are a few ways:
Pop-up when they're most likely to be interested
When people are on your homepage and exploring your products, it's a perfect opportunity to serve a popup that gives a discount in exchange for an email address.
There's a lot of negativity around website popups, but the key is to offer them when they need them—for example when someone is heading towards the close-out button to leave your page.
These are called "exit-intent popups" and give visitors one last chance to opt-in before heading out. Sometimes people don't want to purchase right away but may be willing to opt into email in exchange for a discount and will make a purchase later.
Some popup tools will even give you the option to disable the popups if someone has already been added to your list. Hidrate Spark is a great example of an exit-intent popup that gives customers options as they opt-in.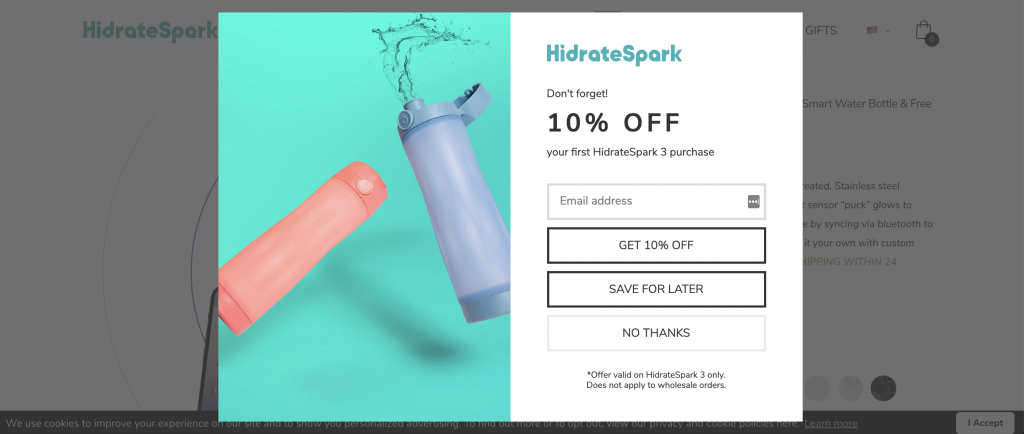 While you want everyone who comes to your website to convert, the truth is that not everyone is ready at that particular moment.
Capturing their email address gives you a perfect opportunity to reach out to them with relevant information until they are ready to purchase. Encourage people to sign up for your email list whenever they visit your website to keep them up to date.
The best spots to drop a signup form? The top or bottom of your webpage with some interesting and engaging copy like this form on Shinesty's site.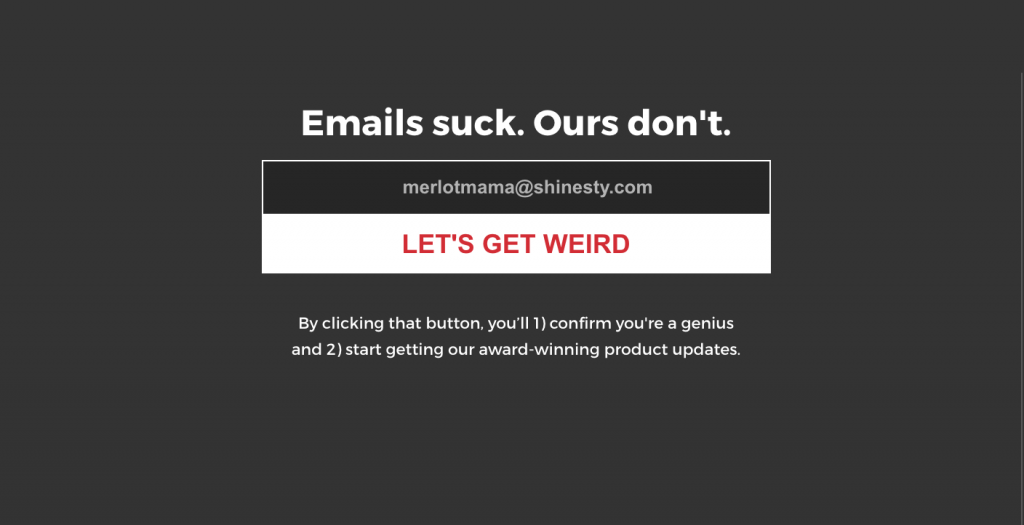 Use a chatbot on your website
People have questions, and having a chatbot on your website is a great way to answer them, but to also build a longer-term relationship with someone.
Most chatbots require an email address to communicate, and once they've chatted with you, you will have their email address to continue engaging them for the long haul.
You can create email campaigns that interact with people and encourage future purchases. A great example of a chatbot interaction is Domino's "Order with Dom" – you can have a conversation to order your pizza and you signup to get offers in the future.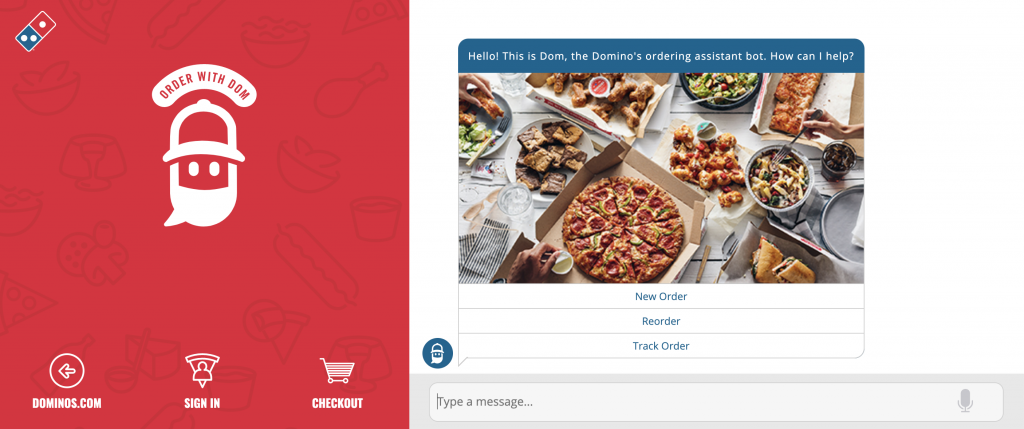 Offer something for free in exchange for their email
People love free things, so offering something to your customers through a giveaway, a contest, or a coupon offer is a tried-and-true way to get people to sign up for your email list.
If you don't have a physical product to give away, a free guide or ebook is a great giveaway that people often flock to.
If you're holding a contest on social media or your website, there are tools to help you keep track of things like ShortStack or ConvertFlow.
Setting Your Email Marketing Objectives
Once you have a list, you're ready to send emails to customers, but you won't want to just barrage your subscribers with irrelevant emails.
That's why it's essential to define your email marketing objectives to avoid low click rates and unsubscribes.
To define your objectives, you need to ask what you're trying to achieve.
A few objectives you might want to focus on include:
Converting New Customers
Increasing Sales
Asking for Reviews and Feedback
Increasing Customer Loyalty and Communication
Educating Customers or Providing Them Offers
Introducing New Products or Features
Your objectives will set the tone for segmenting your audiences and defining the types of email campaigns that you will create for those individual audiences.
Best Practices for Email List Segmentation
There's no secret about the benefits of email segmentation for eCommerce companies—86% of consumers say that personalization plays a role in determining whether or not they buy from a brand, and Studies show as a result of list segmentation email engagement and performance results with a 14% increase in open rates, 100% increase in clicks, and a 760% increase in email campaign revenue.
But what are the best strategies for creating great segments?
Here are some tips for each stage of your customer journey:
Awareness
At this stage, people have opted into your email list but you don't know much about them and they haven't even shown interest in making a purchase.
Here are three ways you can segment these people to send them personalized content.
1. Demographics
This segment has a lot of different possibilities depending on what you're trying to sell.
You can segment by characteristics like age, gender, location, or more to provide personalized offers.
As you build a relationship with these potential customers, you can ask them for additional information to further segment them.
That way, you can send them specific offers for their needs. For example—if someone lives in a cold, wintery climate, you can send them cold-weather gear, or if someone is shopping for products for their children, you can send them offers as they pop up.
Segmenting by demographic also helps you develop your buyer personas—who are most likely to buy your product and for what purpose.
2. Signup Source
You will likely have different ways for people to sign up for your email list, and how they finally get to it will speak volumes about the type of customer they are.
Depending on your level of technology, you can track down the particular source of how customers end up reaching you and this will help you personalize to them.
Understanding whether people prefer desktop or mobile, or whether they opted in for a coupon code will help you develop campaigns around encouraging them to take the next step.
3. Engagement
Of course, you want to look at how people have interacted with your brand before to help segment your email list.
For example, if you see that someone engages with a product page multiple times in one week, they're likely interested in purchasing that product.
Conversion
At this stage, you've been able to track some interest on your website from these people, but haven't pulled the trigger just yet.
1. Preferences
This is a great way to interact with customers and learn more about what they're looking for. For this to work, you'll need to find out a little bit about your customer interests and ask them to mark their favorite products. From here, you can send them targeted email campaigns when those products are on sale or when they're back in stock.
2. Recommendations
You can also segment subscribers by their likelihood to purchase similar products to what others like them purchased or complementary products to their favorites.
3. Abandoned Cart
Of course, any eCommerce business knows a lot about abandoned carts.
There are many reasons customers abandon something that they've shown serious interest in, whether it's price, timing, or they're just waiting for it to become a necessity. Sending a timely little push in the right direction can easily encourage a purchase.
Loyalty and Retention
People at this stage are already customers or have been in the past.
These emails can help encourage them to buy again or to tell others about your products.
1. Past Purchase History
Segmenting customers based on their past purchase history can be a great way to encourage loyalty and repeat business.
There are many options for segmentation, including informing people about upcoming sales, segmenting based on products they previously bought, up-selling them on products that are better or complementary to what they previously purchased, or reminding customers they may need a refill after a certain amount of time has passed.
2. Lapsed Customers
You never want to see a customer go and never come back, which is why you should segment any customers that haven't purchased in a while into their own segment to give them a reminder every so often.
People might have just changed their mind or forgot about your brand, and the key to this segment is to get them to come back and purchase again.
Your favorite type of customer—they purchase often, they are excited about your product, and they want to tell the world… so encourage them to do so!
Your most passionate customers can be your secret weapon to getting more.
This segment can be a valuable one: offer them coupons or deals for reviews or for sharing the news with friends and family.
Typically this segment is measured with a high NPS score (Net Promoter Score).
Types of Email Campaigns Your Business Needs
There are a few types of email campaigns every eCommerce business should implement to connect with customers.
Here are the types of emails as well as best practices to make them effective:
Lead Nurturing Emails
These are the emails that will build a relationship with your subscribers so you can win their trust and convert them into buyers.
Every eCommerce business needs two important types of lead nurturing emails:
1. Onboarding email campaign
You have one chance to make a good first impression and your welcome campaign is designed to do that while familiarizing people with your brand.
This campaign should:
Educate people about your brand and your biggest value proposition
Set the tone and expectations for future emails
Encourage them to engage with your brand and purchase
Don't overdo it, an onboarding campaign should be short and sweet—no more than 3 – 4 emails before sending someone into a more segmented and personalized campaign.
2. Re-engagement campaign
How often do you clean your email lists?
If it's longer than every year, your list is probably outdated: email lists decay by about 22% every year. An old and outdated list can hurt your brand, which is why it's important to clean your list regularly.
Before you delete inactive subscribers, send them a quick reactivation campaign to try to re-engage anyone that might be interested in "coming back".
Promotional Emails
These are the emails that will delight customers and get them excited about a purchase, or push them over the edge if they're on the fence about buying your product.
These are the emails every eCommerce business needs these three promotional emails:
1. Offers/Deals
Coupons, discounts, free shipping, free product with purchase—those sweet limited-time offers are a great hook for new customers and are great at driving quick sales.
These emails will have the highest open and engagement rates, and while they can hurt your margins a bit in the short run, they can entice and encourage customer loyalty in the long run.
2. Upsells/Cross-Sells
Up-selling is when you encourage customers to upgrade their purchase or buy a more expensive item while cross-selling is offering related or complementary products.
Both tactics are implemented to increase a customer's order value. A few tips for up-selling or cross-selling:
Make it easy: a one-click add to cart can make all the difference.
Show the benefit: show people how the product will make their experience better.
Package it well: give discounts if people bundle products together.
3. New Product Announcements
When you launch a new product, don't wait for people to find it on your website.
Be proactive: tell the world (or at least your email list) about what's new to get your products off the shelves.
Transactional Emails
These are the emails that are a requirement to keep people up to speed on what's happening with their orders and the company.
These are the emails every eCommerce business needs these three transactional emails:
1. Order Confirmation & Shipping Information
Got an order? Let customers know! Send that digital receipt and keep people updated on the status of their order.
You don't have to stop there though, you can use the order confirmation email to get people excited about what's to come.
2. Thank You Emails
Don't forget to thank your customers! Automate your thank you emails and send them whenever they make a purchase, become loyal customers, or even just for being regular readers of your emails.
3. Surveys
Do you ever wonder how your customers feel about your product or brand?
This email is your chance to ask them.
Don't dive too deep though—only ask a question or two in each email, and make sure to explain how giving feedback can benefit them.
Engagement Emails
These are the emails to get people excited about your brand and your product.
These are the emails every eCommerce business needs these two engagement emails:
1. Newsletters
These email campaigns may seem like a lot of work, but they're important for educating and engaging customers for the long term.
Newsletters can build goodwill and can grow trust and thought leadership with customers.
2. Referrals
Why not send an email that brings in free leads?
Word of mouth is an important factor in how people make purchasing decisions, so it's not hard to see why brands take the time to set up a good referral program.
Whether you just reach out to passionate customers or encourage people to share by offering an incentive, referrals are a great way to build your customer base and grow your email list.
How to Measure Your Results
Depending on your objectives, you'll want to track various metrics from your campaigns.
You'll want to segment your metrics based on your segmented audiences.
Once you narrow your focus, these are the basic results you'll want to track at the very minimum (email KPI's):
Open rate: How many and which subscribers are opening your emails
Click-thru rate (CTR): How many and which subscribers are clicking your CTAs and links
Click-to-open rate (CTOR): The number of unique clicks compared to opens—a helpful metric for engagement and effectiveness
Conversions: How many subscribers completed an action through your email
Measuring these metrics will allow you to understand what areas you should adjust and improve to keep your campaigns running smoothly and your customers happy.
Getting Started: Platforms & Tools You Need
These are the top email marketing platforms that are proven to work for eCommerce marketing campaigns:
Klaviyo: While most tools are built for email specifically, Klaviyo is built specifically for eCommerce. Designed to integrate with eCommerce sites like Shopify, Klaviyo can capture customer data and integrate it into marketing campaigns easily and intuitively.
The tool is free for 250 contacts, and pricing grows based on email list size with an email size of 10,000 going for about $150/month.
Recommendation: We have used many different email service providers and concluded for eCommerce, Klaviyo is the best choice.
Mailchimp: one of the most popular email marketing tools on the market, Mailchimp is a great tool for small to medium-sized businesses. It's easy to use, has clean designs, and integrates with many other eCommerce tools. The tool allows you to segment your audiences, create trigger-based campaigns, and reporting.
The tool is free for up to 2000 subscribers, with tiered pricing depending on what features you're looking to implement, with the enterprise tier starting at $299/month.
Recommendation: If you are a beginner and technology is not your strong-suit, starting with Mailchimp is not a bad idea. Then graduate to Klaviyo as your business grows.
Constant Contact: A user-friendly and accessible tool, Constant Contact is another good choice for eCommerce brands. Templates allow users to run surveys and coupons, and easily allows brands to manage their contacts within one tool.
The basic tool begins at $20/month, but the eCommerce functions run about $195/month.
HubSpot: The benefit of a larger marketing automation tool like HubSpot is to be able to integrate everything all in one tool from email, to social, to website. You can track every step a customer takes on your website with this tool.
While it's an inclusive tool, it does come with a price tag with the basic tier going for $45/month, but the full marketing hub coming with a $3200/month price tag.
Leave a comment with your favorite ESP if you have experience with them.
Conclusion
ECommerce marketers have extensive to-do lists, and email marketing is essential to connecting with customers.
As you grow your marketing lists, make sure to prioritize how you segment and personalize your emails to truly reach your customers, and take your email marketing to the next level.